Snowmass, Colorado--The particle physics community may never have been so physically fit. Three weeks of hustling up and down the steep slopes of this Rocky Mountain community, rushing at 8,500 feet from working group to plenary session to town meeting, have infused this normally sedentary crowd with more red corpuscles than they've had in years.
But what about the field whose future the scientists came together to consider? Have three weeks in the mountains given U.S. particle physics a muscular run at the scientific challenges of the decades aheadˇor have they left it gasping for breath?
More than 1200 particle physicists left their normal pursuits at universities, national laboratories and government agencies to come to the Snowmass Summer Study on the Future of Particle Physics. They used this "three-week sabbatical," as one physicist called it, to concentrate on shaping the future of particle physics not only in the United States but in the global setting that is increasingly the context of this most international of scientific endeavors.

The Snowmass conferees represented every area of particle physics. Tunneling experts sat next to string theorists; astrophysicists had coffee with superconducting-magnet builders; young physicists hiked alongside old physicists; lifelong hadron fans even occasionally ate lunch with lepton disciples. For three weeks they talked, argued, reflected, persuaded, harangued and listened to each other as they grappled with nothing less than the fate of their field.
Like the mountain road they scrambled up each day, the questions the Snowmass physicists confronted are daunting: After Fermilab's Tevatron cedes its place at the high-energy frontier to Europe's Large Hadron Collider, what will happen next? Can the U.S. hold to its role as a world leader in particle physics? When the LHC begins operating a few years hence, will there be a new frontier accelerator? What kind? What technology will it use? Where will it be built? In the U.S.? At Fermilab? In some other country? Can the nations and regions of the world collaborate to build and operate it? Even, starkly, as one Administration budget official asked, does experimental particle physics still mean high-energy physics? Does the world still need particle accelerators?
The physicists who arrived at Snowmass were far from united in their answers to these questions, or even in their approaches to the answers. At the conference's end, differences remained. But its co-organizer, Fermilab theorist Chris Quigg, expressed satisfactionˇand reliefˇat the way things had gone.
"The Snowmass Summer Study has turned out the way I didn't dare to hope," Quigg said. "I am happy that so many people came, eager to think creatively and positively. People didn't come with chips on their shoulders, ready to settle scores. People have been working hard the whole time, from eight in the morning until ten at night. What's been especially noticeable is the intensity of the discussions at the coffee breaks and at lunch and dinner. It has not been just armed camps of believers, but people of all different views talking with each other."
Duke University physicist Al Goshaw, cospokesman of Fermilab's CDF experiment, echoed Quigg's view.
"It has pushed us out of our busy lives back home and forced us to talk with each other," Goshaw said.
Indeed there were plenty of opportunities to talk. In every nook and cranny of Snowmass Village, scientists in shorts converged to work on accelerator and detector technology, physics theory, cosmology, experiment and computing. For the first time at a Snowmass physics conference, there were even workshops on how to communicate from the physics community to the rest of the world. There were so many groups meeting in so many places that, in the chaotic first days of the huge conference, many had trouble finding their meeting places. Not everyone saw the confusion as a problem.
"I had hoped that Snowmass would get people to cross their normal boundaries and talk to each other," said Northwestern University physicist Heidi Schellman. "At the beginning, it seemed like a drawback when no one could find their meeting rooms; but I have concluded it was all part of the plan to get unlikely groups of people together."
Not that it was all mountain sunshine. During the first week's panel discussion by many of the world's high-energy physics laboratory directors, physicist Hirotaka Sugawara, director of Japan's KEK laboratory, gave an impromptu geography lesson. In response to a proposal to build a future linear collider in the United States, perhaps at Fermilab, Sugawara said the machine should be built somewhere on the Pacific Rim, which he defined as a place where one can see the Pacific Ocean.
"People in the state of Illinois cannot do that," Sugawara said pointedly.
In general, however, international harmony prevailed.
"The strong presence of the Europeans and the Japanese has been critical to the success of the Snowmass conference," said theorist Bob Cahn of Lawrence Berkeley National Laboratory. "It's evidence of how far our field has come. No longer can we have a meeting on the future without our Japanese and European colleagues."
Of the 1,200 registered Snowmass participants, some 200 came from offshore laboratories and universities, with an especially strong contingent from DESY, the Deutches Elektronen Synchrotron Laboratory in Hamburg, Germany. Scientists at DESY recently proposed to build TESLA, a linear collider that would use superconducting accelerator technology.
Physicist Fred Gilman, of Carnegie Mellon University, Chair of the Department of Energy/ National Science Foundation High Energy Physics Advisory Panel, praised the conference's inclusion not only of the nations of the world but of the entire universe.
"The character of this meeting shows not only the global nature of our field," Gilman said, "but also the convergence of particle physics and cosmology. More and more we see that particle physics and astrophysics are seeking answers to the same fundamental questions about the nature, the history and the composition of the universe."
By the conference's end, most participants said that Snowmass 2001 had succeeded in helping the physics community frame its future; and that the future, though still cloudy, looked like a linear collider.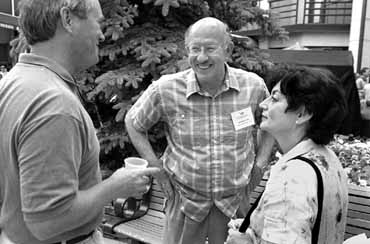 "Snowmass has been enormously valuable," said Stanford Linear Accelerator Director Jonathan Dorfan. "We have a big field. We have more ideas than we can get funded, a situation that forces us to make choices and then to get behind the choices we make. There is really no way to do that except at a meeting like this."
Although conferees did not achieve official consensus (nor even consensus on whether there should be a consensus), they did move in a linear direction.
"It seems there has been some self-organizing movement," said University of Michigan physicist Dan Amidei. "This direction was not engineered or imposed. There has been a grass-roots movement toward building a linear collider somewhere in the world."
However, as a vision of the future began to crystallize, talks by budget officials and Washington insiders provided a sobering realization that, difficult as it may be for physicists to convince each other of the proper direction for their future, it is likely to be far harder to convince the U.S. government to fund it.
"Snowmass has been a great reminder of the tremendous vitality of our field," said physicist Natalie Roe of Lawrence Berkeley National Laboratory. "We have interesting projects at all scales: small, medium and large. There are exciting fundamental questions that we need to answer and that we know how to answer. At the same time, I have a new recognition of the budget problems our field is facing. I'm coming away both uplifted by the prospect of the wonderful science ahead and deeply concerned about how we will find the resources to carry it out."
As particle physicists came down off the mountain at the end of Snowmass 2001, they still had some steep hills to climb.