Even at a physics lab, people get hungry. When they do, Chez Léon is there to feed them. For 22 years, the onsite restaurant named for Fermilab's second director, Nobel laureate Leon Lederman, has been feeding everyone from visiting VIPs to workmen on their lunch breaks at its dining room in the Fermilab Village. In the process, chef Tita Jensen has created not only a tradition of distinctive cuisine but also a sense of community.
"This is not an executive dining room," Jensen said recently. "Everyone from the lab is welcome at Chez Léon, from the most famous scientist to the newest employee. I think the award lunches open it up. People come here for a lunch in honor of their length of service at the lab, and they see that everyone gets treated the same. They come back and bring their friends. I hate food snobs."
Indeed, Jensen's almost maternal care for her Chez Léon diners is legendary. She frets when customers fail to clean their plates and responds happily to special requests. It's a rare Wednesday that fails to find her emerging from the kitchen with at least one lighted birthday cake, leading the lunch crowd in what may be the world's slowest rendition of Happy Birthday. Jensen's family feeling for Chez Léon regulars extends even to a couple who, she says, invariably find fault with the meal or the service.
"It's always something," Jensen said ruefully. "The glass has a spot, or there's a problem with the food. But they keep coming back."
The community feeling at Chez Léon begins in the kitchen with a tight-knit crew of women, some of whom have worked with Jensen since they were teenagers.
"I have the best staff," Jensen said. "Chez Léon would not be here without them."
A recent Wednesday found the kitchen crew making last-minute preparations for a lunch of sliced flank steak with honey-chipotle glaze, jicama slaw, seasoned rice and orange-cardamom flan with sliced strawberries. The first few diners began arriving at 11:30.
Reassuringly to a non-professional observer, although lunch service came seamlessly together, it wasn't exactly clockwork in the kitchen.
"Where are these going?" Jensen asked an assistant who was rapidly filling plates with salad and strips of beef. "There's nobody out there yet. Put this rice back in the oven please."
By 11:45, the dining room had begun to fill up, and plates began to fly out the kitchen door.
"How many individual flans did we make?" Jensen asked.
"Sixteen."
"Let's get the strawberries going."
An assistant chef mixed a large stainless-steel vat of strawberries with sugar. Another washed a bunch of mint she had just picked from the herb garden by the kitchen door. A sprig would garnish each plate of strawberries and flan.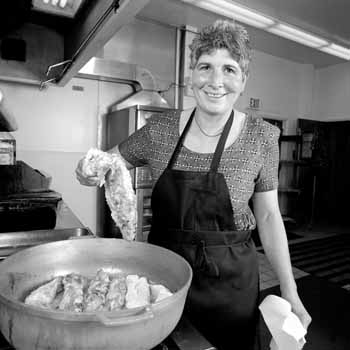 At 12:30, with lunch well under way, a dozen unexpected guests arrived, their lunch reservations having mysteriously vanished. Although the dining room was already crowded, in five minutes Jensen had set up another table and started the newcomers on their meal. With the new arrivals settled, she disappeared into the pantry, emerging with a blazing birthday cake.

"Ha-a-a-a-a-pp-eee Birrrrrthd-a-a-a-ay toooo youuuu÷÷.."

As lunch service ended and the pace in the kitchen slowed, Jensen sat briefly at the kitchen table to talk to a visitor.

"We are busy," she said. "At Wednesday lunch, we could easily serve a hundred, if we could accommodate them. The dining room was originally supposed to seat thirty, but we routinely seat sixty. Today we served eighty lunches. We put extra seating on the patio to take care of the lunchtime overflow."

How does she plan menus?

"I work with the menus myself," Jensen said. "I read books. My mother sends me recipes, people bring me menus when they travel. I like to serve Dominican food, because that's where I'm from, and it's the food I grew up with. I've found that people at Fermilab will try anything. That's the joy of this job. I think I would be bored stiff in a regular restaurant."

An annual operating subsidy from Fermilab contractor URA keeps meal prices affordable. For that reason, Jensen said, Chez Léon serves only members of the Fermilab community and their guests. Besides weekly Wednesday lunch and Thursday dinner, a burgeoning schedule of catered meals for laboratory events keeps the kitchen busy.

"This was a typical week," Jensen said. "We did the Technical Division Review dinner on Monday, lunch for 50 minority students Tuesday at noon and dinner for NuMI reviewers on Tuesday night. People like it, and it is affordable. They can eat good food together in a private dining room. No one throws them out at the end of the meal. They can sit there and talk all night if they want to."

The food is the medium, but for Jensen the message is the community it brings.

"People like it here," she said. "My biggest success is that everybody feels comfortable at Chez Léon."

<