Snowmass2001
by Chris Quigg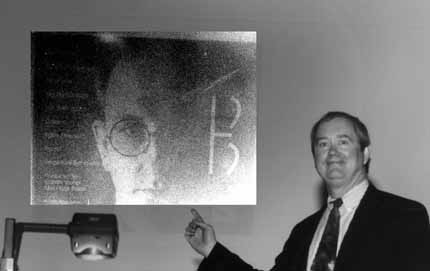 Snowmass 2001 will bring together more than 500 physicists in the Rocky Mountains, to look beyond the horizon.
With a decade of discovery before us and ideas for a variety of new accelerators taking shape, it is the perfect moment to take stock of the new possibilities at the highest energies, in experiments of exquisite sensitivity, through metaphorical travel to new theoretical realms, and in experiments that look at the universe through new eyes. In the three weeks (June 30- July 21) of the Summer Study on the Future of Particle Physics, organized by the American Physical Society's Division of Particles and Fields and Division of Physics of Beams, we will make an inclusive survey of the current state of particle physics and articulate our scientific goals for the next two decades. We will discuss the options for the next big machine, to be sure, but also examine the diversity of scale essential to a healthy research community.
Besides physicists from institutions across the country, Snowmass will draw many of our international colleagues as working group convenors and participants. While our first order of business is helping the American community define and articulate its future, that future can't be constructed in isolation. If our field agrees on one idea, it is that worldwide cooperation is essential to create the best and richest physics program for everyone. Among our colleagues from abroad, it will be a particular pleasure to welcome the international physics laboratory directors during the first week of Snowmass, when we will have a focused discussion on the issues of a global accelerator network.
Members of the HEPAP Subpanel on Long-Range Planning will be present for much of Snowmass 2001. Technical sessions and special events, including a town meeting, are constructed to promote mixing among the participants and to foster communication.
The work of Snowmass 2001 is organized around four sets of working groups devoted to accelerators, technologies, physics themes and experimental approaches. The convenors of the working groups are drawn from many institutions; it is their workˇand the contributions of the participants--that will define the scientific output of the summer study. For the first time, the summer study will include teach-ins on subjects of importance to the community: how university physicists can participate in accelerator research; the experimental implications of string theory; and nonaccelerator experiments.
The experimental working groups will also include an extra-added attraction: HMOs, or "High-Minded Outsiders." To the experts and advocates of particular approaches we have added senior scientists just to serve as high-minded skeptics. The HMOs will probe and strengthen arguments; and, by the example of their time and effort, lead others to see Snowmass as a forum for engaging in the ideas and aspirations of others.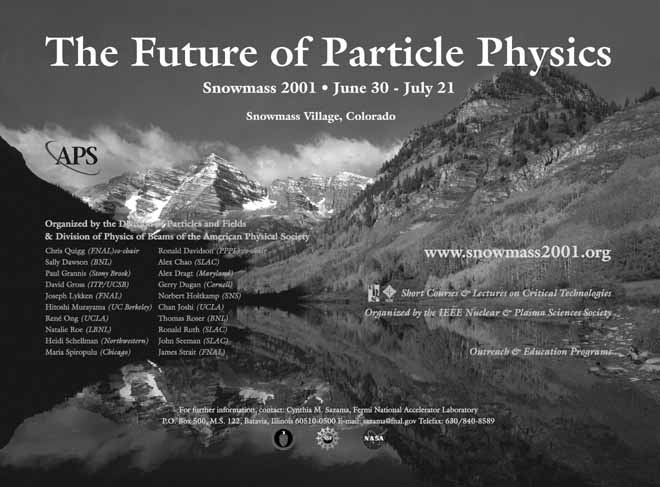 The participation of young scientists is indispensable at any meeting devoted to our future, and youth will be present in force throughout the Snowmass organization. The generosity of the DPF and DPB, and of the National Science Foundation, has allowed us to support the participation of many young physicistsˇadvanced graduate students, postdocs, even some undergraduatesˇwho will be making tomorrow's particle physics.
Buildingˇand manifestingˇcommunity is an important goal of the summer study, and Snowmass 2001 is enjoying an unprecedented level of institutional support. In addition to the funding agencies (DOE, NSF, and NASA) and Fermilab's parent organization, Universities Research Association, 10 U.S. high-energy physics labs have joined as Snowmass sponsors: Argonne, Berkeley Lab, Brookhaven, Cornell, Fermilab, Jefferson Lab, Lawrence Livermore Lab, Los Alamos, Oak Ridge and SLAC. The Nuclear and Plasma Sciences Society of the IEEE is contributing an exciting program of technology lectures and short courses that will greatly enrich the Snowmass experience.
To paint a complete picture of particle physics and what it can become, we need to draw on all the talents of our community and make common cause with related fields. String theorists will have an important presence at Snowmass, and the working groups are rich in links to nuclear physics, astrophysics and cosmology.
Thanks to a remarkable response from the whole particle physics community, Snowmass 2001 will take outreach and education to a new level. "Science Weekend," July 7 - 8, will be an extravaganza of activities for people of all ages who are curious about the world they live in. "Science on the Mall" will feature physics vans from several universities, large-scale equipment from the SciTech museum in Aurora, lectures, hands-on experiences for children, a science book fair, and presentations by the Adler Planetarium. The QuarkNet program will hold a weeklong training workshop. Large-scale cosmic-ray detectors will join local Colorado high schools to a North American network for collecting experimental data on cosmic-ray showers. Public lectures, science programs for local day camps, and Spanish-language outreach efforts round out the menu. The outreach activities have drawn funding from many public and private sources.
Bring your passion, energy, creativity, and commitment to Snowmass as we shape a new era for particle physics. The world will be watching!
---
On the Web:
http://www.snowmass2001.org