Classifieds
For Sale
'00 Pontiac Sunfire SE, silver, 4 door, auto, dual airbag, power windows, power locks, keyless remote, cruise control, A/C, CD player, tilt, ABS, 11,000 miles, 2 year/25,000miles left on warrantee. $2,000 under Kelley Blue Book (kbb.com), $12,100. Call ext. 4740 or 630-897-7110 after 6:00PM.
'97 Chevy Malibu LS, 3.1L V6, 46,500 miles, dark green w/beige interior, fully loaded-power everything, AM/FM/CD, $11,999. Call ext. 3325 or 630-527-6218 after 6 p.m.
'95 Ford Taurus GL, white, automatic, A/C, AM/FM stereo, PB, PS, cruise control, air bags, power locks/windows/mirrors, keyless entry, new tires, 76K miles, $6,500 o.b.o. Call Boris at 630-840-8704.
'95 Dodge Neon, brilliant Blue, 81K, 5 speed manual, 4 cyl., power steering, power brakes, power locks, cruise control, AM/FM/cassette stereo, roof rack, air conditioning (needs work), tilt wheel, dual air bags, ABS, alloy wheels. No rust, great gas mileage. $5,300 Call 761-8207 or 761-9661.
Homak heavy-duty steel security 16-gun cabinet (21çW x 22çD x 55çH) with reliable Sargent & Greenleaf combo lock with reinforced tubular, key-code cam locks with anti-drill security pin. $350. Contact crogers@fnal.gov x3824
All aluminum open trailer, 6¢ x 10¢, 2200-lb torsion axle, full width aluminum ramp or single aluminum motorcycle ramp, low aluminum non slip bed with outside fenders and 13" wheels with a spare tire, 3 wheel chocks, will haul 1 or 2 motorcycles. Trailer has about 5000 miles on it and is garage kept by the original owner. Asking $1,300. Call x3302 or 630/879-5506.
Slide projectors, computer games and programs. Most are new, $5.00 or less. 630-896-3211.

lawn maintenance
Attention homeowners in West Aurora, North Aurora, and Batavia, excellent lawn maintenance available, call Roger 630-859-3789.

Furniture refinishing
Repairs and restorations, pick-up and delivery available. 815-695-5460.

Attention Fermilab Artists

and Artisans:
Now is the time to show us your artistic side! The Employees' Arts & Crafts Show will take place May 14-June 15 in the 2nd Floor Gallery of Wilson Hall. All Fermilab employees, visiting scientists, retired employees, contractors and their immediate families are encouraged to enter the exhibit. The last exhibit featured an eclectic combination of photographs, prints, paintings, sculptures, weavings, quilts and jewelry. Please pick up an application form from the Wilson Hall Atrium desk. Application deadline is April 26 and work must me dropped off on Wednesday May 4, 2001.

TUESDAY GOLF LEAGUE
Pebble Beach is too far away. Bliss Creek is just minutes from here. The Tuesday Bliss Creek golf league will be starting in April. We have openings for individuals or foursomes (but they're going fast). Golfers of all abilities are welcome. If interested, please contact Dean Sorensen (deans@fnal.gov, x8230), Pat Sorensen (psorensen@fnal.gov, x3811) or Don Arnold (arnold@fnal.gov, x2871).

Noon Bible Classes
Need wisdom, want understanding? Take a 1 year study of the scriptures. Wednesdays at 12 noon in the Huddle.Call x4432, Jeff Ruffin.

Letter to the Editor

To FERMINEWS: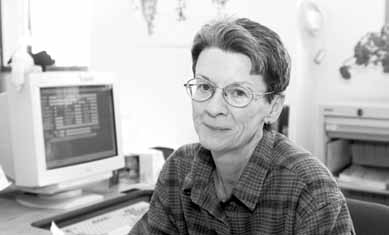 In the March 16, 2001 issue of FERMINEWS, an article entitled ìMaking the Cutî highlighted the fascinating ecosystem work being done by Liz Aicher and others on the Fermilab site. Unfortunately, a few key facts about Liz were omitted. During normal business hours, Liz is a valuable employee of the Laboratory, working in the Property Office. One of her main duties is to administer the loans of physics equipment to facilities in foreign countries. It should also be noted that her efforts expended helping the ecosystem return to equilibrium are all done on her own time. We in Business Services are proud of all of Lizís accomplishments and commend her on taking such an active interest in this important endeavor.
Jeff Irvin Assistant Head, Business Services Section.