QuarkNet Video News Project
by Hilary Blanchard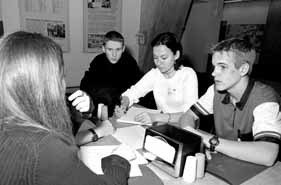 On our second visit to Fermilab, I feel almost as if I'm playing a physicist for a day. I'm ready to go to work.
Without the need for first-time introductions and tours this week, our group of six gets right down to the QuarkNet video project. We make arrangements for interviewing physicists, and separate into three sub-groups.
With most of us attending different schools in different areas, we were concerned about organizing and planning, and about getting along. But we enjoy each other's company. Our group seems to be getting tighter, a good sign that our work will also be compatible. And our work is intensifying, despite our occasional breaks for socializing, or perhaps because of them. On a smaller scale, we're learning how large physics collaborations, from many institutions and countries, work together to build a team.
After our social breaks, we always turn our attention back to particles, scripts and visuals. Things begin to fall into place, and our final product becomes clearer by the minute.
Although today is only our second session, it also marks the halfway point of our project. I begin to feel a bit of a time crunch, realizing how much we still have to accomplish. We press on, and support each other in our work. It's comforting to know that all of our Fermilab contacts are ready and waiting to help us, and we continue to plan and organize.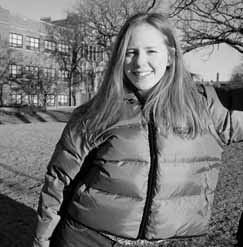 I begin to feel like a student again as we anticipate lunch, everyone's favorite part of the workday. This well-deserved break is a brief one. We know there is much to do, and do not waste time. We have learned how precious our time at Fermilab is. It is the one time we are all together and able to work for an entire day.
Back at home, we stay in communication, and each day we continue working toward our goals. Our web-cast is taking form. Our group is working closely and effectively, and all of our contacts are helpful. I'm eager to see the final product.