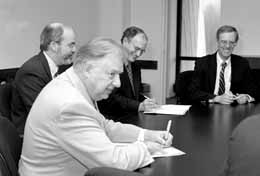 Speaker of the U.S. House of Representatives J. Dennis Hastert Jr. added his strong voice in support of scientific research on Wednesday, March 7 when he announced a $4.2 million grant to establish a partnership between Fermilab and Northern Illinois University in nearby DeKalb, Illinois.
The Northern Illinois Center for Accelerator and Detector Development enhances NIU's status as a research university, and offers a boost to Fermilab's future prospects. Still the world's highest-energy particle physics facility as it begins Collider Run II of the Tevatron, Fermilab will lose its position at the energy frontier when the Large Hadron Collider begins operation later this decade at CERN, the European Particle Physics Laboratory in Geneva, Switzerland.
Speaker Hastert made clear his intentions to maintain Fermilabˇand the state of Illinoisˇas a leader in the field.
"Right now, Fermilab is the top facility of its kind," said Hastert, whose 14th Congressional District encompasses the laboratory. "Its future is vital, not only to my home district, where the laboratory is a major employer, but to our country if we intend to remain at the forefront of technology. The new research center at Northern Illinois University will help position Illinois to stay on top, while at the same time serving as a laboratory for highly trained scientists and students of physics."
Fermilab Director Michael Witherell stressed the advantages for both the university and the lab.
"As accelerators grew too big for individual universities to build, they became the province of the national laboratories," Witherell said. "Only a handful of universities maintained active programs in developing new accelerators. Accelerators are so important in so many areas of science and technology that universities need to be involved. With NICADD, NIU can offer a first-rate accelerator studies program, and Fermilab can engage in accelerator research and development that it could not otherwise afford."
NIU professor and Fermilab experimenter Jerry Blazey will serve as the center's co-director with Steve Holmes, Fermilab's Associate Director for Accelerators. The center will be housed at NIU's Faraday West building, with nine full-time NIU physicists and grad students and another 10 collaborators from around the country. At least one of the new positions will be for a tenure-track accelerator physicist.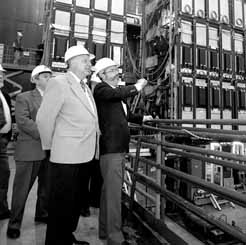 "Our objective with the establishment of NICADD is to ensure the long-term viability and vitality of Fermilab," said Blazey, a collaborator since 1986 at the DZero detector. "That means we must maintain Fermilab's world preeminence in high- energy physics and nurture the long-term health of the field. Just as important for NIU, the new center will bolster research opportunities for graduate students, not only in physics, but in chemistry and engineering as well."
The Illinois Coalition, a non-profit group promoting the state's high-tech development, strongly supported NICADD's creation. Coalition president Shaye Mandle called it a "significant step in the future of Fermilab and particle physics research in the U.S."
The NICADD grant, from Department of Education funding, comes at a time of increasing pressure in the worldwide high-energy physics community to begin planning the successor machine to CERN's LHC. The issue of the next-generation machine will be a major focus of this summer's Snowmass 2001 conference on "The Future of Particle Physics." Fermilab theorist Chris Quigg is co-chairman of the organizing committee for the Snowmass workshop, sponsored by the American Physical Society's Division of Particles and Fields, and Division of Physics of Beams.
The workshop will serve as a conduit to the High Energy Physics Advisory Panel of the Department of Energy's Office of Science, a critical element in formulating DOE policy. In a position paper issued last year, HEPAP urged "increased support now for the research and development of accelerator technology for an energy frontier facility that will allow the U.S. to remain a leader in the field over the long term." A new accelerator requires at least a decade in the planning and building, a process Holmes knows first-hand from his experience as project manager for Fermilab's Main Injector. In terms of planning, there's no time like the present.
"High-energy physics as a science has always relied on truly forefront facilities," Holmes said. "It's important for the U.S. that Fermilab continue to have a world-class program. If you're not at the energy frontier, you must know how to get back there. That's why our science is called high-energy physics. The field is always redefining itself: today's high energy is tomorrow's low energy."
The NICADD grant also comes at a time of growing concern about the direction of research spending. The American Association for the Advancement of Science analysis of research and development in the FY 2002 Budget Blueprint shows substantial increases for health and defense research, but predicts other federal R&D funding agencies will "most likely see their R&D funding stay flat or even decline in FY 2002."
Hastert, however, was steadfast in his support.
"I have been, and remain, a strong champion of high-energy physics," Hastert said. "Illinois is blessed with the nation's premier high-energy physics laboratory in Fermilab and it is imperative that we in Illinois work to assure Fermilab's preeminence. Soon, Fermilab's Tevatron collider will no longer be the world's most powerful accelerator; so, it is imperative that research and development on the future of high-energy physics, and the training of future accelerator scientists, begin now. NICADD is perfectly suited to fill this important role."
NIU is also a member of the state-funded Illinois Consortium for Accelerator Research, along with Illinois Institute of Technology, the University of Chicago, Northwestern University, and the University of Illinois at Urbana-Champaign.
Chartered in 1895, NIU is about 30 miles west of Fermilab with an enrollment of over 23,000. The university offers 51 undergraduate degree programs and 70 graduate degree programs, including 10 Ph.D. programs, doctoral degrees in Education and the Juris Doctorate. NIU is an NCAA Division I school; the NIU Huskies compete in the Mid-American Conference.
The university is a longtime Fermilab research partner. Theorist Carl Albright, an NIU professor, has been associated with Fermilab's theory group since 1969.
"Because of our long-term relationship with Fermilab, NIU physicists have a keen understanding of the laboratory's importance and future challenges," said NIU President John Peters. "This center will work closely with Fermilab to ensure the laboratory remains on the cutting edge of technology and scientific discovery for years to come."
NIU also recently became one of only three Illinois-run universities offering a Ph.D. program in physics, and was approved as a full member of University Research Association Inc. The non- profit consortium of leading research universities operates Fermilab under contract with DOE.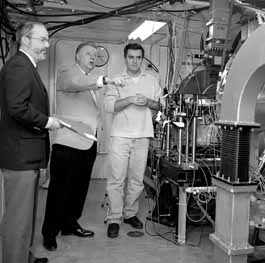 "With our Ph.D. program in physics, and the contribution that our professors are making at Fermilab, I see nothing but bright horizons for us," Peters said. "We're on the rise as a research institution. Just this year, the Carnegie Foundation made us a member of the top research category, and we entered into full membership in URA. In physics, and with our other wonderful science and technology programs, we feel we have a big contribution to make."

Peters and Witherell signed a Memorandum of Understanding on January 17, specifying goals and areas of collaboration:

R&D in accelerator structures for a linear collider, with work largely centered in the Fermilab Technical Division;

R&D in detector technology, with the Particle Physics Division;

Joint operation of what will now be called the Fermilab/NICADD Photoinjector Laboratory, with the Beams Division.

Holmes explained that the two R&D efforts focus on understanding and developing technologies required by future generation machines. Operating the photoinjector, he said, "is looking even further into the future, using some very novel technologies for generating and accelerating particle beams."

In high-energy physics, the future is never far from anyone's thoughts. Even while starting a new journey of discovery in Collider Run II, the lab must focus on maintaining its forefront presence in years to come.

"The question is, what do we do after the LHC?" Holmes mused. "In high-energy physics, if you're not in first place, there really might not be a second place. You might go straight to third or fourth."