A Student's View: From Initimidation to Inspiration
by Hilary Blanchard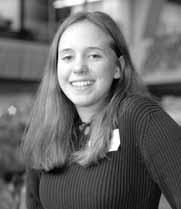 Living and going to school in suburbia, caught up with dances, movies, homework and friends, it's easy to forget that right next door is one of the most powerful and cutting-edge science labs in the world.
I have visited Fermilab before, but when I arrive at the lab this time, I am struck anew by the surroundings. I see trees, fields and farmhouses, none of which I'm used to seeing in or near suburbanized West Chicago. My anticipation grows as we near the High Rise, the towering symbol of this scientific institution. Walking into Wilson Hall, I feel intimidated, thinking of all the breakthroughs and progress originating in this place, in the minds of the people in this building.
I ask myself: "What am I doing here? I'm just a physics student."
Soon, though, I find my answer. My teacher, a classmate and I walk into a conference room that looks like any other. However, in this room are other students my age, who also enjoy science, learning and challenges--things not all of my friends at home appreciate. Today, we are all here for the same reasons.
As we start to get acquainted with each other and with the staff that will be helping us, I begin to feel that I belong. Seeing the building, the surrounding area, the technology and expensive equipment designed and used by the lab not only informs us, but also completely boggles our minds, or at least mine.
The idea that hundreds of people, from all over, can come together to create the flawless mechanics of the accelerator and assemble the fragile components of its detectors is impressive enough. However, the fact that they are using these tools to answer some of life's biggest questions makes me want to share these ideas with the world.
Lucky me: that's exactly what I get to do.