Einstein's Smile
by Mike Perricone
WASHINGTON, D.C.--Nothing seems to bother Einstein.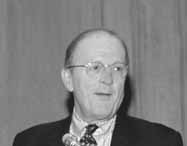 Policies change; funding changes; even physics changes. Einstein's expression retains a steady state as he lounges, larger than life, in his own space outside the National Academy of Sciences across from the Mall in the nation's capital.
Einstein reads, or maybe he gazes past his book, or maybe that depends on one's frame of reference. If he doesn't seem amused by the D.C. political parade, he is certainly bemused. Even when his name is invoked inside the building, as it was on January 31 by U.S. Representative Sherwood Boehlert (R-NY), the new chairman of the House Science Committee.
"I want to run the Committee in a way that would make Einstein smile," Boehlert told the Council of Presidents of Universities Research Association, Inc., the 89-member consortium operating Fermilab under contract with the U.S. Department of Energy.
"I want to make sure that as long as I'm chairman," Boehlert continued, "no one plays dice with your universe."
With the transition from the Clinton Administration to the Bush Administration and the shuffling of congressional committee assignments, Boehlert moved into the Science Committee chairmanship vacated by James Sensenbrenner of Wisconsin, who assumed the chairmanship of the Judiciary Committee. The Science Committee has jurisdiction over all U.S. energy research and development, all science research and development, and all non-military research and development, from NASA to the National Science Foundation to the National Weather Service.
Boehlert has served on the Science Committee since 1983, but his appearance before this annual gathering of Fermilab's contracting consortium was his first speech as committee chairman. He brought along some staffers, and some members of the media. He acknowledged the stakes of his debut performance: "If it works, you'll be the only people to have heard these themes when they were fresh; if it doesn't work, you'll be the only people to have heard them˝period."
Boehlert's length of service on the Science Committee has extended through two of the major ups and downs in high-energy physics policy. He opposed the Superconducting Super Collider, supporting the cut-off of funds in 1993. But he later supported the signing of the international agreement for major U.S. contributions to building the Large Hadron Collider at CERN, the European Particle Physics laboratory in Geneva, Switzerland. He repeated that support with a specific and well-received reference to Fermilab.
"I will fight to increase research funding, in general; and funding for the physical sciences, in particular," Boehlert said. "Unique and vital DOE facilities like Fermilab must continue to prosper, even as we participate in international projects like the Large Hadron Collider."
In his own remarks to the Council of Presidents, Fermilab Director Michael Witherell considered the new chairman's differing stances as reasoned and reasonable.
"He is knowledgeable in the field and he is a supporter of high-energy physics," Witherell said. "I look forward to working with him. He understands our issues."
In fact, Boehlert did not appear reluctant to raise issues in a field where he proffered support. Declaring his position on high-energy physics as "your staunchest ally and your fairest critic," the chairman seemed to be alerting lab directors that they'd have to make any gains the hard way.
Is biomedical research taking a disproportionate share of federal research funding? Boehlert seemed to be leaning that way.
"Those who believe," he said, "that the National Institutes of Health (NIH) are eating up a disproportionate share of the federal budget have two solid facts on their side: the extraordinary growth in that share, and the dependence of the American economy, and of biomedical research itself, on a wide range of research disciplines. And a cursory look at the numbers certainly gives one the feeling that things may be a little out of whack."
But he concluded that any change requires that we "dig a little deeper and ask some tougher questions," such as the importance of public concern with health issues, and the country's history of focusing on a major area of research, from the Manhattan Project to the Cold War to the space race.
Should civilian research money be doubled? Boehlert described himself as "kindly disposed" toward the idea but wanting more tough questions asked.
"Questions like: Why double? What are we going to get for that money? How will we know if we are under- or over-spending in any field?" the chairman said.
"The science policy debate sometimes seems composed entirely of randomly generated numbers.
We really need to push for more data."
If that statement on "randomly generated numbers" didn't get the attention of laboratory directors when the speech hit the nightly news, Boehlert's follow-up seemed clearly intended to sound an alert from Brookhaven to Lawrence Berkeley.
"It's a case that is going to have be made agency by agency, as well as in general terms," Boehlert said. "Looking at DOE, for example, I want to get a much clearer sense of the Department's needs as it tries to upgrade aging facilities and replace a retiring workforce. And despite years of post-Cold War studies, my sense is that we still don't have a clear policy regarding the role of the national laboratories."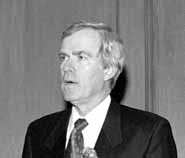 Senator Jeff Bingaman (D-NM), ranking Democrat on the Senate's Energy and Natural Resources Committee, seemed clear on what he saw as the strengths of DOE laboratories: their success in technological innovation and research, their operation of long-term projects, their presence as a neutral site for research without a commercial agenda, and their ability to rapidly reconfigure in response to scientific advances.
Yet Bingaman's remarks to URA, preceding Boehlert's, also seemed to telegraph a subtle shift in the wind.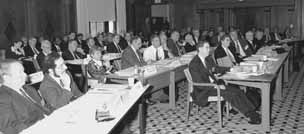 "I don't believe the long-term viability of the national laboratory system is something we can take for granted," Bingaman said. "We cannot slip from the current level of excellence. I would hope for reform and restrengthening of the national lab system."
URA also used the occasion to change the status of Northern Illinois University from an associate member to a full member of the consortium.
Neal Lane and Millie Dresselhaus offered parting remarks, Lane after eight years as science advisor to President Clinton, Dresselhaus after six months as head of DOE's Office of Science.
Dresselhaus warned that the laboratories' core capabilities "cannot be preserved within a context of flat funding. With flat funding, research and people suffer. Young people say this is not a good field to go into."
She pointed to a drop-off in high-energy physics graduate students in the U.S., from 800 in 1992 to 600 in 2000. She also warned of a decline in the U.S. share of publications in physics journals, compared to a sharp increase in Europe and Asia.
Lane stressed the need for science and scientists to be part of the political process. He said Washington works on the principle of building relationships. He was always impressed, he said, by the weight that members of Congress gave to what they heard from their constituents.
"Lobbying is a bad word in our country, but it is not a bad word in Washington," he said.
But as the new committee chairman, it was Boehlert who was in a position to set the tone and set priorities: "I figure the three things I have to provide to be popular are press coverage for the Members, parking for the staff, and money for the scientific community."
Physicists would be happy with one of the three. Einstein isn't saying.