Continuing Education in the Main Control Room
Mike Perricone
Step inside the Main Control Room and look at the monitors, more than a hundred of them.
When you know the right keys to punch, you can call up readouts on those monitors from well over 100,000 channels of information, and you can make sensitive adjustments to some 44,000 different components spread throughout the Fermilab accelerator complex. The key, of course, is knowing the right keys to punch.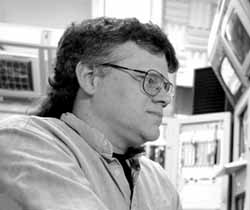 "You just have to sit down and start learning, and it takes time," said Stan Johnson, a Main Control Room veteran of nearly 13 years, the last seven as a crew chief. "The most important readbacks and settings get absorbed into your memory because you see them constantly every day. That involves somewhere from just a few hundred to maybe a couple thousand devices. The machines are always changing and growing, and that represents one of the major challenges."
Even with degrees in physics or engineering (in one case it was a history degree; in another, a background in computer training for air traffic controllers), you enter the MCR as a trainee. The designation is Operator 1, but expect at least two intense years of onsite, hands-on course work. You'll study from a series of "rookie books" (Concepts, LINAC, Booster, Antiprotons, Tevatron, Switchyard, External Beamlines and Controls) in preparation for the oral and written exams required for promotion to Operator 2.
"It's very much a troubleshooting job," said operations chief Bob Mau. "It takes two to three years to be ready for the formal test for Operator 2. But to get really good in the Main Control Roomóthat will take four or five years."
And by then, the machines are likely to change, as they have during the upgrades in preparation for Collider Run II of the Tevatron. All the existing machines in the accelerator complex--the preaccelerator, Linac, Booster, Main Injector, and Tevatron--and their new components were put on line with the new Main Injector to produce proton-antiproton collisions for the first time on Monday, Oct. 2, at 11:21 PM Central Time. The collisions occurred at CDF, the extensively upgraded 5,000-ton detector that was rolled in for its commissioning run last month (see FERMINEWS, Vol. 23, No. 17, "All-CDF Issue," October 6, 2000).
"That was a long day, starting at about 9:30 in the morning," Johnson said. "When we're doing [collisions] for physics, we hope the shot set-ups will take much less time. But all along the way, people were trying to figure out how to do things in the new Main Injector era."
Even the basic beam path has changed since Collider Run I. The old Main Ring has been removed from the Tevatron tunnel, and the particle beam path now runs through the new Main Injector.

"We don't have an existing pattern. We're building that pattern now," Johnson explained. "We're working with a lot of people now--machine physicists, engineers, technicians--and we're using a lot of systems that didn't exist during the last collider run. We're trying to bring all these people and systems together."
In fact, there was an unscheduled dress rehearsal on opening night. Just before collisions could be created Monday evening, a problem arose in the Tevatron. The beam was lost. Fortunately, the
Antiproton Source retained enough antiprotons for a second set of shots. With the process repeated, CDF saw collisions. Johnson emphasized that the success stemmed from yet another example of the operators' interdependence with support and systems groups. A prime example is handling the crisis of every operator's and crew chief's nightmares: a power outage through the accelerator complex, shutting down all the machines. In the middle of the night.
"What you do in the first 15 to 20 minutes can determine whether the machines come back on or whether they're down for a week," Johnson said.
The critical step is getting the cryogenic systems running again before they warm up. It can take a week to cool them back to superconducting temperaturesóa week lost from schedules, commissioning or experiments. The Cryogenics and Controls groups are called in, and there may be 25 people working to solve the crisis.
"They'll get here as quickly as they can, but it's 2 a.m., and you're waking people up," Johnson said. "In that case, the first line of defense will be the operators. It can get to a real crunch time, and it helps to have a good crew."
A crew chief will usually work with four or five operators, on rotating shifts, which Mau conceded "plays havoc with marriages, families and your bodies." Running the accelerators is a 24/7/365 job, and one that is seldom scripted.
"You always have a plan for the shift," Johnson said, "but five minutes after you get in, something might break. At that point, all bets are off."
Johnson is moving from crew chief to Operations Specialist, focusing on the Antiproton Source. He'll be a chief troubleshooter and trainer, acting as liaison among Operations, experimenters and the Antiproton Source Department. And of course, he'll keep learning.
"We're trying to assist the people commissioning the machines, and learn from them at the same time," Johnson said. "We'll have to take over from them at some point. We're in a big learning curve right now."