Wood Visits NTF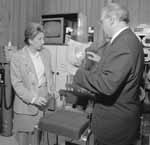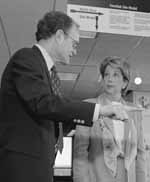 Illinois Lieutenant Governor Corinne Wood, herself a cancer survivor, toured the Midwest Institute for Neutron Therapy at Fermilab on May 25, after receiving an award from the Elgin (Ill.) Chapter of Hadassah and Provena St. Joseph Hospital recognizing her efforts on behalf of cancer awareness, prevention and treatment. Provena St. Joseph Hospital of Elgin operates the Neutron Therapy Facility at Fermilab.
"We are fortunate to have Fermilab, one of the worldís premier centers for research, right here in Illinois," Lt. Gov. Wood said. "We can be proud of the positive working relationship that Fermilab and Provena St. Joseph have developed, with many people treated successfully through this partnership."
The Neutron Therapy Facility, which has treated patients from around the world, is one of only three U.S. facilities using neutrons to treat cancer.
Letter to the Editor
To FERMINEWS:
In the April 14 issue of FERMINEWS(Vol. 23, No. 7,"NuMI Construction Begins"), we read about "the neutrino's near light speed trip to Minnesota." Perhaps many of your readers might have missed the fact that you presume the exhistance of exciting new physics. The Standard Model describes neutrinos which travel at precisely the speed of light. Our speculation that neutrinos might oscillate would demand a mass for the neutrinos, and a velocity for this beam which would be just barely less than the velocity of light. Other speculations could lead to a different neutrino speed, and they be even more exciting.
Bruce C. Brown
(a MiniBooNE collaborator)