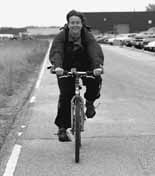 High Energy Exercise
If you're a proton, it takes about 2.5x10-13 joules to accelerate once around the Tevatron's four-mile ring. If you're a person in jogging shoes, it takes considerably more energy--about billion billion times more. Nevertheless, every day at Fermilab's lunch hour, in winter and summer, in bitter cold or broiling heat, the Tevatron becomes one of the world's more unusual exercise tracks, as walkers, joggers, bikers and rollerbladers join the protons and antiprotons in circling the highest-energy accelerator on earth. The protons are underground, of course, and they move faster than the people. In the end, though, for people and protons alike, it all comes down to physics.
May 17 is National Employee Health and Fitness Day 2000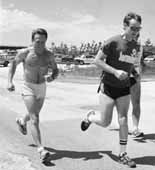 Fermilab and Wellness Works will join organizations across the country in celebrating National Employee Health & Fitness Day 2000, the largest worksite health and fitness observance in the United States.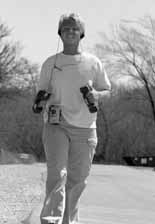 The National Association of Governor's Councils on Physical Fitness and Sports has designated May 17, 2000, as the official national health observance. Millions of employees will observe the 12th annual event with worksite walks or special activities during the workday.
Wellness Works again will sponsor this year's event on Wednesday, May 17 from 11:30-1:00 on Ring Road. Beginning at A1, employees are invited to walk, run or rollerblade around the ring. Participants sign in at a table at A1, where they pick up their ticket and a bottle of water. Stations set up around the ring will offer games to play, prizes to win and cheers of encouragement. The Division or Section with the largest percentage of participation will win the coveted traveling trophy, defended by last year's winner, Laboratory Services. Plan to circle the Ring on May 17