Classifieds
For Sale
'99 Goldwing SE (Silver) with Extras Price lowered to $1,500 less than Kelley Blue Book (3/27/00 $16,500) Priced at $15,000 11K Miles - Excellent Condition and Runs Great. Lots of extras. Call Terry X4572 or e-mail skweres@fnal.gov
'92 Mitsubishi Mirage, 4dr. 129K, A/C, automatic, AM/FM. No rust, good condition. $1200 obo. Anotoly, 630-840-2878 or 630-851-3074.
'90 GMC V1500 Jimmy, SLE 92K, vgd cond't inside and out, 5.7 Litre V8, auto trans, AC, security system, $8975 obo. waw.fnal.gov or x3168, hm 630-325-4608.
'90 Subaru Legacy Sedan LS, 135K, 4WD, sunroof, cruise control, AM/FM cassette, in very good condition and all service done by the dealer. $3000 x6396 or mccusker@fnal.gov
'90 Chevy Cavalier, 138K, 2dr, A/C, automatic, AM/FM-cassette, new tires, brake pads and battery. Rusty doors and fenders. Runs good. $700/obo. Call Anatoli x6367 or e-mail cherepakhin@fnal.gov
'86 Mercedes Benz, 190-D silver, 4 door sedan, 5 cyl, 2.5 liter 4 speed automatic, sun roof, memory seats, PS.PB AC, cruise control, cassette am/fm radio, 40 mpg city, 50 mpg hwy. $5200. Must Sell. Must See, obo. Mike x3924, home 847-426-1596 after 5 pm.
Electric Range, Magic Chef Slide-In, White w/self cleaning over, Ceran glass smooth top, all electronic controls. Like new, used very little, $500 ($1,000 new). barb@fnal.gov or ext. 4136.
Buffet table with extended table, 6 leaves plus folding chairs $300 firm. Ceramic bird collection 40 + $75.00. Ron Rissman 896-3211.
Home For Sale: Lombard (Butterfield East Sub) clean beautiful family neighborhood California Ranch, 4 bedrooms, new carpet, new kitchen, AC, large deck & patio, two car garage, 5 minutes to I 88-355 back yard meets with large park. School and Park District in neighborhood $209,000. Must see to appreciate Contact Laura at 708-301-3542 or James x3821/james@fnal.gov.
Lawn Care - Mowing, trimming weed control and fertilizing. Self owned business for 11 years. Call 630-859-3789 or rtreend@aol.com.
For Rent
Wheaton Townhouse, 2 bedroom 1-1/2 bath, remodeled, new kitchen appliances/washer and dryer AC, 1 car garage plus 1 parking space, club house and pool. $975, call (630) 462-1315.
FREE two healthy parakeets. One blue one green, food, cage, etc, james@fnal.gov or 840-3821
FREE firewood. Large tree sections up to 3' diameter x 2' thick. You split and haul. Call Gerry at x3930 or e-mail gerryb@fnal.gov.
wanted
Used washing machine. Call 630-305-4558 (answering machine until 4/26), or lehnerf@fnal.gov.
Time Share for Sale
2-weeks at Acapulco/Puerto Vallarta/ Mazatlan, 1-bedroom unit/sleeps 4-6 appraised at $15,900. Call Duke 815-372-2368 evenings after 7:00PM and/or anytime weekends.
Fishing
Great Lake Michigan Sport Fishing... via King Olaf Charters. We specialize in multi-boat charters. All equipment provided. Call Captain Bill Penn 630-554-3155 (day) or 630-554-3828 (evenings) for more information. Please call Carol Magnuson (x3451) if you have any questions regarding this ad.
Tickets for sale:
At Chicagoís Old Town School of Folk Music: Guy Clark & Jesse Winchester (Folk) - Saturday 4/22, 3 tickets ($19 each). Special Consensus - 25th Anniversary concert (Bluegrass) - Saturday 5/6, 2 tickets ($17 each). Contact Roni at (630)548-4955.
golfers
Have an urge to hit something with a stick? The Tuesday Prestbury Golf League has openings for singles or teams. For more information contact Dean Sorenson deans@fnal.gov, x8230 or Rod Klein rklein@fnal.gov, x4682.
Bible study
The noon Bible study course will begin its one-year survey of the Bible on Wednesday, April 19, in the Huddle located in the Cross Gallery. If interested contact Jeff Ruffin x4432, or ruffin@fnal.gov.
Correction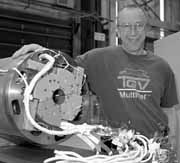 Why is this man smiling? Because he's in the Technical Division, not the Computing Division, as FERMINEWS erroneously reported last issue. John Konc IS a computing specialist, however, and he DOES volunteer at SciTech. Here he presents one of his division's newest products, a model magnet for the quadrupole magnets that the Technical Division (not the Computing Division) will build for the Large Hadron Collider at CERN.