Pier Oddone, Named Fermilab's Fifth Director, Returns
To "The Field I Come From, The Field I Love"
Pier Oddone was recently notified that he will be awarded the prestigious Panofsky Prize in physics in 2005 for inventing the asymmetric B factory. But he was clear on Friday that being named the next Director of Fermilab was a prize in and of itself.

"In the last few years, we've learned how ignorant we are-dark energy, dark matter, we know nothing of them, yet it's all connected," said Oddone, who will become the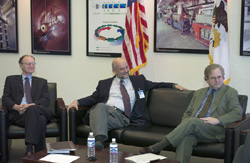 (Left to Right) Mike Witherell, Pier Oddone
and Robin Staffin at the press conference on
Friday.

lab's fifth director on July 1, 2005. "In nature, we see the wings of a butterfly, we see supernovas, we see back to the big bang-Fermilab is the place where we ask the most important questions about them, like the origin of mass, how many dimension are there, how did the universe evolve. Now I am re-engaged in the field that I come from, the field that I love."

Oddone, 60, has been Deputy Director of Lawrence Berkeley National Laboratory since 1991, with responsibility for scientific programs in a multidiscipline lab with a $500 million annual budget. He was selected as Fermilab's director after a search of more than six months, culminating in a meeting with, and approval by, Secretary of Energy Spencer Abraham just over a week ago.

"He is the best combination we could imagine," said Don Hartill of Cornell University, Chairman of the Board of Trustees of Universities Research Association, Inc., which operates Fermilab under contract with the Department of Energy.

Robin Staffin, DOE's Associate Director, Office of High Energy Physics, described Oddone as "a leading scientist and a truly gifted administrator." Fred Bernthal, President of URA, said Oddone's standing as a leading particle physicist and as an experienced manager made him "eminently qualified" to lead the lab in the years ahead. Michael Witherell, the lab's director since July 1, 1999, has worked with Oddone as a colleague for "many, many years," and said Oddone is highly regarded for "his unerring judgment, his spirit, and his sense of humor…he knows the field very well, and he knows what it will take for the field to advance."

Oddone, whose day began with a press conference, extended through many introductions, lunch, photos and an All-Hands Meeting in Ramsey Auditorium on Friday afternoon, seemed exhilarated to have the appointment brought to light.

"It feels wonderful," he said, "to finally be unwrapped."

Some of the prominent areas of discussion on Oddone's day of introduction:

ILC
"Our field is at a critical juncture," Oddone said. "We can feel it in our bones…To go out and measure new things, we have to build new machines. We've been exploiting the machines we built years ago, in the 1970s. We keep upgrading them, squeezing every last drop from them. It's really been close to 40 years since we've embarked on building a new machine."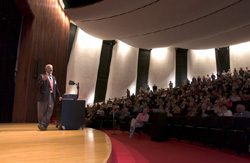 Pier Oddone addressing the Fermilab
community at the all-hands meeting on
Friday.

Oddone said the international decision to focus on a single technology for an International Linear Collider was "an amazing thing," but he stressed the necessity of "making the case to the nation that we have to do this."

"The world community has said the Linear Collider should be located at an existing lab," he continued. "It's a very difficult decision, but clearly Fermilab is in a good position, it is in a good geological area, it is in a supportive area-hopefully, it is in a supportive community…If we build it here, it has to be the people's collider, people have to want to have it here…If it is not built here, that would be a shame from my perspective. Clearly, it is something I am going to try to make happen here."

Oddone noted the lab's strong neutrino program, and its value as a collaborator on the Large Hadron Collider at CERN.

"But if the U.S. is a player on the world stage," he said, "we can't just be users [at other labs]. We need to build the facility here…If we are only users, that should not be an acceptable solution for our lab."

Contract re-competed
URA's contract to operate Fermilab expires at the end of 2006. Bernthal said he expects DOE to issue a Request for Proposals late in 2005, although he observed that the process seems to be a bit behind schedule.

"The initiative originally came from Congress, which didn't feel that a lab should go 50 years without competing its contract," Bernthal said. "Our own contract has run about 35 years now. DOE assembled a blue-ribbon panel, and the recommendation was to compete contracts at labs that had not been competed recently. But that's not something that we're afraid of."

Oddone, asked if he felt any insecurity becoming the director when the contract would be re-competed, said there was "a measure of uncertainty." He also noted that the University of California and Berkeley Lab are in the midst of preparations for a contract re-compete, which affects him directly while he is still that lab's Deputy Director. He stressed his role there in helping Berkeley's new director, Steven Chu, who was appointed just five months ago.

"You have to make the case all over again, and that is always a challenge," Oddone said. "But in this case, you use the fact that you need to compete to analyze how you run the lab…The RFP should come at the end of '05, but we would not want to wait until then to prepare. There are sure to be issues to deal with. But right now, I want to get to know as much as I can about this lab. And over the next few months, I will be deeply involved in the competing of the contract at Berkley Lab."

What to expect from him
Managers and leaders who are widely admired, Oddone said, have three strong qualities: competence, integrity, and communication ability.

"You must show management competence, and technical competence," he said. "If people want to talk with you about a project, they must know they can expect an intelligent conversation. A leader must have absolute integrity, must be completely upfront and not play games. Communication-be a good listener, then articulate your decisions in ways that can move people, to align them with DOE, to align them across the lab."

As for what the Fermilab community could expect from him at the outset, Oddone was emphatic about what he would not do: "I will not be talking about BTeV vs. neutrinos, or something vs. the linear collider-this is something we will do together. In the next few months, I am going to learn a lot about the lab, and I have a lot to learn."

Oddone viewed his mission as paying careful attention to the people who work at the lab, and creating what he called "an atmosphere of innovation."

"Innovation requires maximum communication and connectivity," he said. "If you look at the invention of the assembly line-the invention was putting together elements from disparate areas. Interchangeable parts…continuous process…people doing only one job…Innovation is often described as 'thinking outside the box.' But as someone said, 'Outside the box is empty!' What you want to do is connect boxes. When many things are brought together, that creates a new invention."

Culture of safety
Oddone emphasized the problems resulting from accidents at "two great institutions,"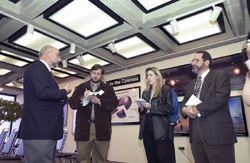 Pier Oddone with reporters at Friday's press
conference.

Los Alamos and SLAC. "They have come to a halt," he said. "The consequences are enormous."

He stressed that commitment to safety from top management is "imperative." Institutions must learn about safety at the lower levels of risk, he said, so they don't have accidents at the higher levels. The concepts of redundancy, and the presence of redundant systems, are necessary to achieve a high level of safety, Oddone said, while admitting that redundancy "costs lots of money."

"But if you analyze the concept of redundancy, you can achieve it without breaking the bank," he said. "You can build in great redundancy by involving everyone at the lab. Everyone has eyes to see if something is not safe, and everyone has the authority to stop something that is unsafe. You create a culture where safety is everybody's business, and where it affects everybody. People will say to their co-workers, 'You will hurt us all if you do this unsafely.' If a colleague stops you and says, 'Do this the right way, the safe way,' you know you have a safe culture."

Science and budget deficits
"Our ambitions," Oddone said, "don't match with the huge budget deficits. But I think a great country can do all the things we need to do, and still raise our eyes to the stars."