High Hopes for Boring Machine
by Kurt Riesselmann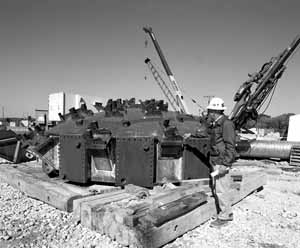 Managers call the time line that determines the lifespan of a project the critical path. The managers of Fermilabís Neutrino at the Main Injector construction project need to navigate two critical paths.
Three hundred and fifty feet underground, those two paths have to meet.
"The excavation of the 350-foot-deep MINOS shaft has high priority," said project coordinator Tom Lackowski of the Facilities Engineering Services Section. "We hope to finish it shortly before the boring machine, in the equally important decay tunnel, reaches the same spot."
Shaft and tunnel will connect to the future underground laboratory of the Main Injector Neutrino Oscillation Search experiment, which will bring light to the question whether neutrinos have mass. Current experiments suggest that neutrinos contribute as much mass to our universe as the combined mass of all stars, and MINOS experimenters are eager to settle the question.
To construct this experiment, physicists rely on the S.A. Healy Company to create a system of underground tunnels and laboratories to house onsite NuMI/MINOS components. Blasting 6 to 10-foot-thick layers of rock, the MINOS shaft has already reached a depth of 140 feet. The excavation of a 3,000-foot-long tunnel will start in the near future, as soon as assembly of a rock-chewing monster called a tunnel boring machine is complete.
"When assembled, the TBM will be about 250 feet long," said John Sollo, construction coordinator of the NuMI project. "We will assemble it in the underground target hall, which is close to being done. Once in place, the TBM will mine about 80 to 90 feet in a normal work day."
"However," Sollo cautioned, "there is a lot of unknown when you work underground."
At present, the NuMI construction is a couple of months behind schedule, project managers say. If there are no additional delays, miners will connect the MINOS shaft and the decay tunnel sometime in summer. S.A. Healy expects to finish the entire excavation of the NuMI project before the end of the year.
Lackowski is looking forward to reaching that goal.
"Once the excavation is complete," he said, "it will be a normal physics project--only the first elevator stop will be much lower."
Diagram of shafts and Tunnels
For more information see: