Accelerator Update - August 6-August 8
Wednesday August 6
The day shift began with Operations monitoring store 2864, with the Antiproton Source (Pbar) stacking, and with MiniBooNE taking beam.
Two Booster RF stations (BRF5 & 6) tripped off due to a vacuum burst at 10:37 AM.
At 12:46 PM, Tevatron (TeV) store 2864 aborted due to a RF power supply (TRF6) that caused an interlock trip.
Operations loaded the TeV with a 36x0 study-store at 3:17 PM and ran until 3:50 PM.
Cryo technicians began repairing a TeV sector A4 wet engine flywheel at 3:50 PM. They finished their work at 5:17 PM.
Operations put the TeV through a dry squeeze at 6:14 PM.
Operations put the TeV through a normal squeeze at 7:17 PM.
Operations put the TeV into shot setup at 7:41 PM.
Operations established store 2868 at 9:48 PM with an initial luminosity of 3.8E31. Pbar resumed stacking.
Thursday August 7
The midnight shift began with Operations monitoring store 2868, with Pbar stacking, and with MiniBooNE taking beam.
An AP1 transfer line vacuum pump (D:IP928) tripped off at 12:30 AM. It continued to trip off about every fifteen to twenty minutes throughout the midnight shift. Operators recorded this problem for later investigation.
At 6:06 AM, a Linac RF station (LRF2) tripped off. It tripped off two more times during the next ten minutes. Operators called in an expert. When this RF station is off it holds off beam to all other accelerators.
LRF2 tripped off at 6:37 AM. The station was making a lot of noise. The first expert arrived about fifteen minutes later and began an investigation. Another expert arrived about a half hour later.
A Main Injector (MI) expert began a slipstacking study at 9:38 AM.
A MI RF station (MIRF18) tripped off at 10:39 AM. Operators bypassed the station and contacted RF experts.
At 11:35 AM, a TeV quadrupole power supply (C:AQ7) went overvoltage and caused store 2868 to abort. Power supply experts investigated and found a loose resister on a card and had it repaired a little after 1:00 PM.
A Preaccelerator (PreAcc) expert made a quick access into the I- Source dome at 1:02 PM.
A Switchyard expert published SWIC data showing beam making it all the way down to the MTest experiment.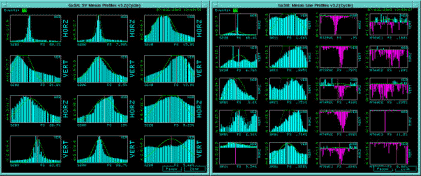 Operations put the TeV into shot setup at 2 PM.
At 3:15 PM, the TeV suffered a sector F1 quench. Beam got injected onto other beam.
A PreAcc expert accessed the I- Source to perform maintenance.
At 3:32 PM, LRF2 tripped off. Experts investigated.
At 3:52 PM, the Pbar stack was lost. Experts found that an Accumulator quadrupole power supply took a current jump due to a bad transistor. Experts had it repaired by 4:33 PM. It reset okay.
At 4:21 PM, a Linac RF station (KRF4) tripped off due to a LCW flow fault. Operators beat on the flow sensor and it started working again. The station tripped off again a few minutes later.
LRF2 tripped off again at 4:44 PM. Linac experts were on hand and had the station repaired within fifteen minutes.
The D-zero (D0) experiment accessed their collision hall at 4:50 PM. They came out of access about an hour later.
Operation began sending beam to MiniBooNE at 5:53 PM.
At 6 PM, a safety test discovered a problem with a Pbar beamstop. Operations called in an expert.
LRF2 tripped off at 6:24 PM for the first of two times in twenty minutes.
Operation began the TeV turn on at 7:26 PM.
At 7:29 PM, safety techs began testing the MiniBooNE safety system. The test took fifty minutes. There was no beam to MiniBooNE during this time.
At 8:19 PM, experts working on the Pbar beam stop determined that an access would be needed.
Recycler experts began a study period at 9:10 PM.
Preliminary work to the AP-1 transfer line required that the MI beamline be turned off at 9:33 PM. This halted MiniBooNE beam.
Operators made the Collider Detector Facility (CDF) ready for an access at 11:18 PM.
Friday August 8
The midnight shift began with CDF, TeV, MI, and Pbar pre-target in access.
CDF came out of access at 3 AM.
Experts repaired a switch actuator for the Pbar beamstop. Other equipment was realigned and the safety techs performed tests. Pbar turn on began at 3:52 AM.
Operations established beam to MiniBooNE at 3:55 AM.
Operation put the TeV through a dry squeeze at 4:30 AM.
A Linac RF station (LRF5) had its breaker trip at 4:38 PM. It reset okay.
Pbar stacking resumed at 4:52 AM.
The LRF2 water skid tripped off at 5:32 AM. It reset okay.
Today's Plan
The plan for today and this weekend is to stack and store. Accelerator Update Archive
More Information
For Tevatron luminosity charts and the current status of Fermilab's accelerators and detectors (live!), please go to Fermilab Now
Comments and Suggestions
What do you think about the Accelerator Updates? Please send comments and suggestions to: accelupdates@fnal.gov.