Accelerator Update - August 1-August 4
Friday August 1
The day shift began with Operations monitoring store 2847, with the Antiproton Source (Pbar) stacking, with MiniBooNE taking beam, and with Linac experts investigating Klystron debuncher phase problems.
A Linac RF station (LRF4) tripped off at 10:09 AM. It tripped off two more times during the next ten minutes. Linac technicians adjusted the station's filament. Stacking resumed at 10:28 AM.
At 10:34 AM, Operations disabled the MiniBooNE beam due to the instabilities caused by the Linac Klystron debuncher.
Two Booster RF stations (BRF5 & 6) tripped off at 10:42 AM due to a vacuum burst.
Two Booster beam valves (VB21 & 23) closed at 11:52 AM. Operators responded and opened the valves. Beam returned at 12:07 PM.
The Main Injector (MI) suffered a vacuum burst at 12:38 PM. This took a while to recover.
LRF4 tripped off again at 1:23 PM. Linac techs reset the station.
A Booster expert began tuning the beam at 1:32 PM. This work kept MiniBooNE off for about a half hour.
At 1:58 PM, the Linac Klystron debuncher tripped off. It took an hour before this device came back to normal operating parameters. This held off all beam.
At 2:09 PM, Linac experts made two accesses: one into the I- Source and the other into Linac to check on the debuncher. Linac resumed sending beam 2:58 PM. MiniBooNE beam was still held off due to Booster tuning.
From 2:50 PM to 3:58 PM Linac had the following RF problems, LRF5 tripped off, LRF2 tripped of twice, and KRF5 tripped.
A Recycler expert finished BPM studies at 4:05 PM.
Linac/Booster experts discovered a 400 MeV area multiwire stuck in the beam line. The multiwire was placed in a safe position and then disabled at 4:14 PM.
LRF2 tripped off at 4:44 PM. It reset okay.
Switchyard experts began a beam-commissioning period at 7:54 PM.
A Tevatron Electron Lens (TEL) expert came in and made adjustments at 7:58 PM.
A NuMI expert began a study period at 8:03 PM.
Operations terminated store 2847 at 10:02 PM.
The D-zero (D0) experimenters accessed their collision hall at 10:30 PM.
Switchyard studies ended at 11:35 PM.
Saturday August 2
The midnight shift began with D0 in access, with Pbar stacking, with NuMI experts conducting studies, and with MiniBooNE taking beam.
D0 came out of access at 12:35 AM.
A TEL expert reported that the device was having a problem at 12:51 AM. Another expert came in to investigate.
The NuMI expert completed his study at 1:15 AM.
At 2:16 AM, the TEL experts reported that they believed the TEL had a short. The Run Coordinator decided that Operations should try loading a 36x4 study-store and see how the Tevatron (TeV) responds without the TEL.
At 4:05 AM, it was decided to turn off the beam and prepare the TeV for access to repair the TEL. The TeV access began at 5 AM.
The scheduled Wilson Hall power outage began at 7 AM. It lasted eight hours.
Two Booster RF stations (BRF5 & 6) tripped off due to a vacuum burst at 8:16 AM.
The Collider Detector Facility (CDF) made a short access into their collision hall at 10:55 Am.
Recycler began a study period at 11:49 AM that required the MI ramp to be off.
At 1:56 PM, a Booster power supply (East Anode) tripped off due to a "Door Open" fault. While investigating this problem, operators discovered a RF problem and disconnected BRF8 from the system. An expert repaired the "Door Open" fault and beam resumed at 2:30 PM.
Recycler finished their study at2:42 PM. Stacking resumed.
Access into the TeV transfer hall ended 3:35 PM. The TEL power supplies check out okay.
At 6:30 PM, the Booster East Anode power supply tripped off again. Operator investigated and then called in an expert.
Operations put the TeV through a dry squeeze at 8 PM.
Operation loaded a 12x0 study-store at 7:04 PM. The TeV aborted and suffered a quench at 7:13 PM. There was a lightning flash just as the abort occurred. The sector B4 cryo system warmed up. MI also suffered some problems due to the lightning strike.
Operations loaded at 15x0 study-store at 10:25 PM.
Operations put the TeV into shot setup at 10:52 PM.
A Booster power supply (ORBMP) tripped off at 10:52 PM. It was reset, but tripped again at 11 PM.
Sunday August 3
The midnight shift began with the TeV in shot setup, and with MiniBooNE taking beam.
At 12:21 AM, store 2856 aborted before it was established due to a TeV anode power supply tripping off. Operations called in experts to help investigate the cause.
Operations put the TeV through a dry squeeze at 3:31 AM.
TeV experts began a helix study period at 4:45 AM.
The Booster ORBMP power supply tripped off at 6:14 AM while Operations was loading a 36x0 study-store. It reset okay.
Operations put the TEV through another dry squeeze at 8:17 AM, and then went into a shot setup at 8:53 AM.
Operations established store 2857 at 9:53 AM. Its initial luminosity was 3.2E31. Pbar resumed stacking. There were problems with the colliding beam that affected CDF but not D0. Operators worked on this until noon, when the beam became useful for CDF.
At 1:30 PM, the Booster ORBMP output began to vary. An operator called in an expert to investigate. At 3:32 PM, the expert turned off the supply to diagnose the problem.
At 8:30 PM, the Booster ORBMP tripped off again due to an overcurrent problem. It reset okay.
At 11:50, a Linac RF station KRF4 tripped off due to sparking. Operations called in an expert.
Monday August 4
The midnight shift began with operators contacting a Linac expert about KRF4.
The Linac expert came in and discovered a cable failure in KRF4 at 1:18 AM.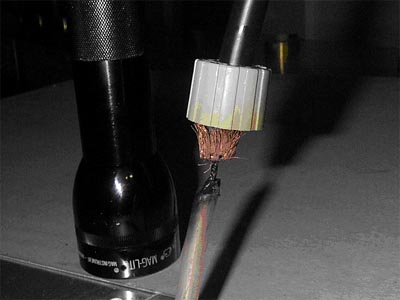 There was not enough slack in the cable to re-terminate, so the tech spliced in new cable. MiniBooNE was back to taking beam by 4:28 AM.
At 5:20 AM, a Booster kicker (MKS02) tripped off. Operators investigated and discovered sparking. An expert came in and bypassed the device and then began repairs.
Switchyard studies began at 7 AM. During this and previous studies, experts had established 38 GeV pions and 120 GeV protons to the MTest experiment.
Operations began end-of-store studies at 7:53 AM.
The Booster expert had MKS02 repaired by 8:17 AM.
Today's Plan
The plan for today is to stack and store. Parasitic beam studies will be allowed by machine when appropriate. Accelerator Update Archive
More Information
For Tevatron luminosity charts and the current status of Fermilab's accelerators and detectors (live!), please go to Fermilab Now
Comments and Suggestions
What do you think about the Accelerator Updates? Please send comments and suggestions to: accelupdates@fnal.gov.